The 2022 Subaru Love Promise Customer and Community Commitment Award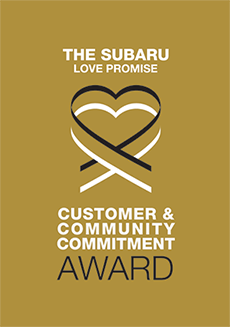 We've been nationally recognized for our dedication to our customers, our community, and the Subaru Love Promise.
We're honored to receive the 2022 Subaru Love Promise Customer and Community Commitment Award. This award nationally recognizes elite Subaru retailers who provide an exceptional customer experience at every interaction with Subaru. These retailers have also demonstrated an outstanding commitment to supporting passions and causes in their local communities in important areas such as the environment, community, health, education, and pets.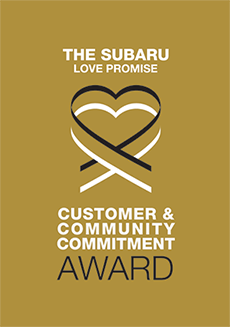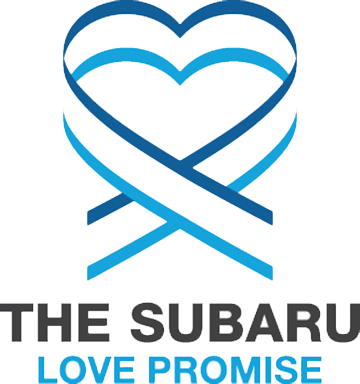 What is the Subaru Love Promise?
Subaru and our retailers believe in making the world a better place and the Subaru Love Promise is our vision of respecting all people. This is our commitment to show love and respect to our customers and to work to make a positive impact in the world.
How is Irvine Subaru dedicated locally to the Love Promise?
Irvine Subaru's Love Promise is in everything we do, from partnerships with various local charities and non-profits to the way we respect our customers, vendors and associates. We are grateful for having the opportunity, to better the community, and serve the greater good with every interaction.
Irvine Animal Shelter, Promise4Paws
Stand Up to Trash, Terracycle
Pretend City Children's Museum , RH Dana Elementary
Love Promise Stories from Irvine Subaru
Subaru and Irvine Subaru believe in making a positive impact on the communities in which we live and work. We uphold that belief through our Love Promise Community Commitment. Every month, we select inspiring stories from customers and partners from around our area who strive to support our collective commitment and feature them here
Special Thanks to Sebastian Clavo! - Carissa S
Sebastian Calvo is the Service Manager at Irvine Subaru, he went above and beyond for the nurses at Children's Hospital Orange County (CHOC). The special care that Sebastian demonstrates to our customers is unparalleled to any other! We want to recognize Sebastian's gift, he truly put the customers needs first and executes with a smile! Here is the thank you card sent by the nurses at CHOC. "Dear Mr. Calvo, We apologize for the delay in expressing our deep gratitude you showed to one of our CHOC families back on Jan. 22nd. This sweet mom was in the battle of a lifetime with her desperately ill child who has cancer, family support was out of state in Utah & the 'last straw of stress' was losing her key. We were getting donations to buy her a key but YOU were so kind to provide one at no charge & we used our funds to fly her husband out to give her some support. You will likely never meet them or know what a "hero" you were to this sweet family and to our entire Oncology dept. Many of our staff are Subaru owners and we are all now committed to bringing out cars to your dealership for service etc :) Thank you from all of us! CHOC Oncology Nurses"
---
Surfers healing surf therapy - Danielle P
Subaru has been a big part in keeping our OC California local chapter going. Our doheny camp is very important to us because it's our home turf. Sharing the stoke of surfing to our local autism community (family because we are parents) at no charge is the core of surfers healing. We have served over 100,000 children on the spectrum, thank you Subaru for being part! Izzy and Danielle Paskowitz Co-founders /surfers healing
---
Saved in midst of a pandemic - andrea c
Mr. Gootgeld is a remarkable man. He is a 25 year survivor of a severe life threatening disease which has been quite a journey. He has been on multiple medications since 1996. In 2006, he was hospitalized due to disease complications resulting in Pneumonia. Miraculously, he continues to combat his disease with a great attitude and zest for life. Gootgeld lives alone with his cat in a 25 foot RV in Dana Point. It would be nearly impossible for Gootgeld to cook in his small RV. Not to mention, his propane system doesn't work and the RV only holds a 6 gallon water tank, which he saves for showering. After searching the internet for a meal services, he was referred to Age Well from the organization 211. Receiving 3 meals a day has been so beneficial for him. He says, "You can't find meals that are high in fiber and low in sodium like these meals. The fact that they have two vegetables and a main course is ideal for me. I am grateful to enjoy nutritious meals". He mentioned that without Meals on Wheels his only choice would be to buy frozen meals which inevitably would be much higher in sodium and wouldn't mix well with his medications. Gootgeld is grateful for meals and the friendly volunteers that deliver his food daily.
---
IACC Loves that Subaru Loves Pets! - Catherine L
The Irvine Animal Care Center is so grateful that Subaru Loves Pets like our Herbie cat. A feline "underdog," Herbie came to us in sad shape: matted fur, underweight and vomiting, a senior cat surrendered to the center after the family had discussed euthanasia. Support from Subaru funds the center's Enhanced Care program, allowing us to give Herbie the treatment he needed and time to overcome his shy, nervous behavior. The shelter doesn't normally dress our pets, but the sweater was doctor's orders, to help him keep warm. And, coincidentally, so cute! Herbie was adopted into his forever home just 10 days into this year's event. Thank you, Subaru!
---
Saving Lives of Heart and Stroke Patients - Melissa C
Saddleback Medical Center Foundation was thrilled to again participate in Subaru's annual Share the Love Campaign. For the 2020 campaign, we received $28,846 to benefit the renovation of our cardiac catheterization lab. The cath lab renovation will allow us to meet the higher demand for minimally invasive procedures to treat heart attack and stroke patients. We will have the most advanced equipment and technology in this cath lab; common procedures include inserting stents to open up a blocked artery during a heart attack. Thank you to Subaru for being a driving force of philanthropy in our community. You are truly making a difference for our patients. Melissa Centeno, Director of Fund Development, Saddleback Medical Center Foundation
---
Successful Earth Day Beach Cleanup - Vicki P
I hope I can fully express how much fun we had at the Earth Day Beach Cleanup sponsored by Irvine Subaru. Carissa brought yummy vegan food, smiles, fun swag and more folks to join the fun! We were so happy to share a beautiful, sunny, Southern California day, ridding the beach of trash with Irvine Subaru and Carissa Sanchez! We hope to do more family friendly cleanups soon! Thank you for everything, it would not have been a success without you!
---
Subaru Impacts Five Wish Kids - Rossana P
We are honored that Irvine Subaru chose Make-A-Wish Orange County and the Inland Empire as one of it's hometown charities in the Share the Love event. The amazing team at Irvine Subaru has donated $42,363, granting and impacting the lives of five local children. Thank you Irvine Subaru, for everything you do for the community and for our wish kids. You are AMAZING!
---
Thank you Irvine Subaru - Debby and Greg Q
Tim and the rest of the team did a wonderful job of taking care of us. Tim helped us out with test drives the weekend before we actually bought our car. His helpful attitude and no pressure service was the reason we chose to come back to Irvine Subaru yesterday to purchase our car. We were hounded by 3 other dealerships during the week while we decided which car to purchase and Tim was the reason we chose your dealership. Brady was friendly, quick and efficient – a nice change from other car purchases we have made where it took hours to get thru the paperwork process and the continued upselling that previously went on. (Even though we hadn't planned on purchasing an extended warranty, we did…) We really appreciate the way Irvine Subaru does business and we have no problem giving you a Truly Exceptional rating if asked. Thank you, Debby & Greg Quartucy
---
Irvine Subaru Virtual Pet Adoption Event - Mike C
Homeless pets found the champion they needed during Subaru Loves Pets Month! Irvine Animal Care Center was the grateful recipient of Irvine Subaru's marketing and publicity campaign during their October Dog-A-Day Pet Adoption Fair. The center is thrilled to report not just 31, but more than 90 pet adoptions for the month! What's more, Subaru's $100/day donation helps support the underdogs and "underdog cats" who rely on our special programs to become adoptable. This might be an Enhanced Care medical procedure, supplies during the animal's time in Foster Care, or inclusion in the center's Third Chance program that pulls animals from overcrowded shelters and brings them to Irvine to better their odds for finding their forever home. Thank you Irvine Subaru for going above and beyond to support pet adoption!
---
Cleaning Upper Newport Bay and Community - Carissa M
In 2019, Irvine Subaru joined the effort of the Newport Bay Conservancy in our annual Coastal Cleanup Day event. Each year on the third Saturday of September, hundreds of volunteers from Orange County join together at the Bay to pick up litter and debris. The effort to collect trash and debris is often difficult, with limited access from high tides and restrictions for critical bird nesting. During a majority of the year (March-August), the ecological reserve is off limits to human interference which protects the birds that may have nests low on the salt marsh land. However, Coastal Cleanup Day is the perfect opportunity to get out into areas rarely access by humans while birds are out of the nest, and to do a good "deep clean". As volunteers move high and low around the Bay picking and bagging trash, they get a unique look into the anthropogenic affects that human waste has on the ecosystem. Although sometimes less gratifying when only micro-trash is found, all debris big and small has an impact on birds and other wildlife in the Bay. When the day comes to a close, and tallies are calculated, the event collects over 15,000 pounds of trash. Irvine Subaru's donation for this event helped the Newport Bay Conservancy to reach approximately 850 volunteers supplying them with necessary materials such as bags, gloves, and hand sanitizer and cleaning critical habitat for wildlife. This September in 2020, we had to take a pivot approach due to the restrictions around the novel coronavirus pandemic. The Newport Bay Conservancy was not able to host the annual volunteer event in Upper Newport Bay, however, that didn't stop our efforts. The trash that enters the Bay with every rainstorm or wind event comes from all reaches of our local watershed. As a watershed is an area of land that drains to the ocean, the watershed of Newport Bay includes several cities including Irvine and contains about 154 square miles of urban community. From this watershed, all trash and debris flows with runoff directly into the Bay and eventually, if not captured or obstructed, out into the Pacific Ocean. This led to a Coastal Cleanup Day Webinar with guest speakers from local organizations to discuss solutions to waste and pollution followed by the kickoff of a week long "Trash Talk Challenge". Participants were encouraged to coordinate and clean up in public community areas such as parks, schools, places of business, and beaches. If the majority of trash comes from the urban areas of the watershed surrounding the Bay, then by having participants clean up at home also helped to assure less trash was available to flow downstream to the Bay. The Newport Bay Conservancy continues to utilize the support of Irvine Subaru for the remainder of the 2020-2021 year for private clean up and restoration efforts in Upper Newport Bay and we look forward to getting back to our annual volunteer event in 2021.
---