The 2021 Subaru Love Promise Customer and Community Commitment Award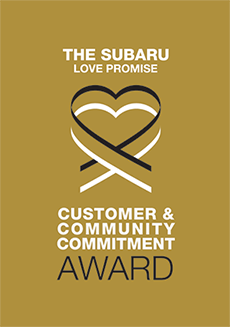 We've been nationally recognized for our dedication to our customers, our community, and the Subaru Love Promise.
We're honored to receive the 2021 Subaru Love Promise Customer and Community Commitment Award. This award nationally recognizes elite Subaru retailers who provide an exceptional customer experience at every interaction with Subaru. These retailers have also demonstrated an outstanding commitment to supporting passions and causes in their local communities in important areas such as the environment, community, health, education, and pets.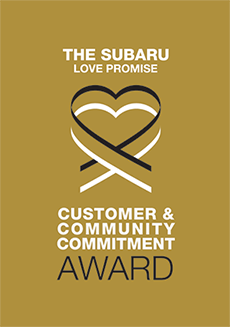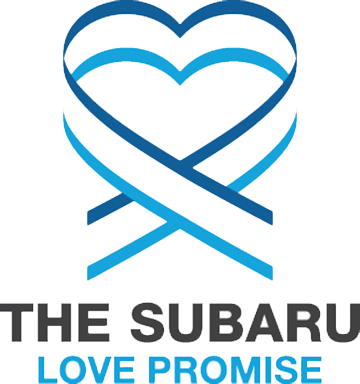 What is the Subaru Love Promise?
Subaru and our retailers believe in making the world a better place and the Subaru Love Promise is our vision of respecting all people. This is our commitment to show love and respect to our customers and to work to make a positive impact in the world.
How is Irvine Subaru dedicated locally to the Love Promise?
Irvine Subaru's Love Promise is in everything we do, from partnerships with various local charities and non-profits to the way we respect our customers, vendors and associates. We are grateful for having the opportunity, to better the community, and serve the greater good with every interaction.
Newport Bay Conservancy, Terracycle
Pretend City Children's Museum , The Whosoevers
Love Promise Stories from Irvine Subaru
Subaru and Irvine Subaru believe in making a positive impact on the communities in which we live and work. We uphold that belief through our Love Promise Community Commitment. Every month, we select inspiring stories from customers and partners from around our area who strive to support our collective commitment and feature them here
Saving Lives of Heart and Stroke Patients - Melissa C
Saddleback Medical Center Foundation was thrilled to again participate in Subaru's annual Share the Love Campaign. For the 2020 campaign, we received $28,846 to benefit the renovation of our cardiac catheterization lab. The cath lab renovation will allow us to meet the higher demand for minimally invasive procedures to treat heart attack and stroke patients. We will have the most advanced equipment and technology in this cath lab; common procedures include inserting stents to open up a blocked artery during a heart attack. Thank you to Subaru for being a driving force of philanthropy in our community. You are truly making a difference for our patients. Melissa Centeno, Director of Fund Development, Saddleback Medical Center Foundation
---
Successful Earth Day Beach Cleanup - Vicki P
I hope I can fully express how much fun we had at the Earth Day Beach Cleanup sponsored by Irvine Subaru. Carissa brought yummy vegan food, smiles, fun swag and more folks to join the fun! We were so happy to share a beautiful, sunny, Southern California day, ridding the beach of trash with Irvine Subaru and Carissa Sanchez! We hope to do more family friendly cleanups soon! Thank you for everything, it would not have been a success without you!
---
Subaru Impacts Five Wish Kids - Rossana P
We are honored that Irvine Subaru chose Make-A-Wish Orange County and the Inland Empire as one of it's hometown charities in the Share the Love event. The amazing team at Irvine Subaru has donated $42,363, granting and impacting the lives of five local children. Thank you Irvine Subaru, for everything you do for the community and for our wish kids. You are AMAZING!
---
Thank you Irvine Subaru - Debby and Greg Q
Tim and the rest of the team did a wonderful job of taking care of us. Tim helped us out with test drives the weekend before we actually bought our car. His helpful attitude and no pressure service was the reason we chose to come back to Irvine Subaru yesterday to purchase our car. We were hounded by 3 other dealerships during the week while we decided which car to purchase and Tim was the reason we chose your dealership. Brady was friendly, quick and efficient – a nice change from other car purchases we have made where it took hours to get thru the paperwork process and the continued upselling that previously went on. (Even though we hadn't planned on purchasing an extended warranty, we did…) We really appreciate the way Irvine Subaru does business and we have no problem giving you a Truly Exceptional rating if asked. Thank you, Debby & Greg Quartucy
---
Irvine Subaru Virtual Pet Adoption Event - Mike C
Homeless pets found the champion they needed during Subaru Loves Pets Month! Irvine Animal Care Center was the grateful recipient of Irvine Subaru's marketing and publicity campaign during their October Dog-A-Day Pet Adoption Fair. The center is thrilled to report not just 31, but more than 90 pet adoptions for the month! What's more, Subaru's $100/day donation helps support the underdogs and "underdog cats" who rely on our special programs to become adoptable. This might be an Enhanced Care medical procedure, supplies during the animal's time in Foster Care, or inclusion in the center's Third Chance program that pulls animals from overcrowded shelters and brings them to Irvine to better their odds for finding their forever home. Thank you Irvine Subaru for going above and beyond to support pet adoption!
---
Cleaning Upper Newport Bay and Community - Carissa M
In 2019, Irvine Subaru joined the effort of the Newport Bay Conservancy in our annual Coastal Cleanup Day event. Each year on the third Saturday of September, hundreds of volunteers from Orange County join together at the Bay to pick up litter and debris. The effort to collect trash and debris is often difficult, with limited access from high tides and restrictions for critical bird nesting. During a majority of the year (March-August), the ecological reserve is off limits to human interference which protects the birds that may have nests low on the salt marsh land. However, Coastal Cleanup Day is the perfect opportunity to get out into areas rarely access by humans while birds are out of the nest, and to do a good "deep clean". As volunteers move high and low around the Bay picking and bagging trash, they get a unique look into the anthropogenic affects that human waste has on the ecosystem. Although sometimes less gratifying when only micro-trash is found, all debris big and small has an impact on birds and other wildlife in the Bay. When the day comes to a close, and tallies are calculated, the event collects over 15,000 pounds of trash. Irvine Subaru's donation for this event helped the Newport Bay Conservancy to reach approximately 850 volunteers supplying them with necessary materials such as bags, gloves, and hand sanitizer and cleaning critical habitat for wildlife. This September in 2020, we had to take a pivot approach due to the restrictions around the novel coronavirus pandemic. The Newport Bay Conservancy was not able to host the annual volunteer event in Upper Newport Bay, however, that didn't stop our efforts. The trash that enters the Bay with every rainstorm or wind event comes from all reaches of our local watershed. As a watershed is an area of land that drains to the ocean, the watershed of Newport Bay includes several cities including Irvine and contains about 154 square miles of urban community. From this watershed, all trash and debris flows with runoff directly into the Bay and eventually, if not captured or obstructed, out into the Pacific Ocean. This led to a Coastal Cleanup Day Webinar with guest speakers from local organizations to discuss solutions to waste and pollution followed by the kickoff of a week long "Trash Talk Challenge". Participants were encouraged to coordinate and clean up in public community areas such as parks, schools, places of business, and beaches. If the majority of trash comes from the urban areas of the watershed surrounding the Bay, then by having participants clean up at home also helped to assure less trash was available to flow downstream to the Bay. The Newport Bay Conservancy continues to utilize the support of Irvine Subaru for the remainder of the 2020-2021 year for private clean up and restoration efforts in Upper Newport Bay and we look forward to getting back to our annual volunteer event in 2021.
---
Promise4Paws at Irvine Subaru's Cars & Coffee - Carissa S
One of our favorite things to do as a dealership is to bring the local community together and talk about Subaru's! That is why we created Cars & Coffee, a monthly meet-up event on the first Sunday of every month to drink coffee and talk about cars! At our event on Subaru November 1st 2020, we did something a little special. We hosted Promise4Paws, a local animal shelter, to come and meet potential parents for the animals seeking homes. We take pride in connecting animals in need with loving families, and there is no better place to find loving people than at a Subaru dealership! To top it off, Promise4Paws brought the famous Subaru mascot, Roadie, to meet our customers and staff! We rolled out the red carpet and took advantage of every photo opportunity with the Subaru celebrity canine! You can even see our Sales Team in a group photo with Roadie as the first image in the YouTube link! The event was one for the books and we made a lot of connections for animals in need of a loving home. Thank you to our community for all of the support, we can't wait till the next event!
---
Irvine Subaru Loves to Help! - Carissa S
Annually, Irvine Subaru participates in Subaru Loves to Help and is able to donate warm blankets to a facility in need. This year, we were honored to partner with Human Options, our local Women's Emergency Shelter. With the current pandemic, Human Options has seen a significant rise in women and children seeking protection, help, and shelter. We (Irvine Subaru) were able to donation 80 warm blankets to Human Options Women's Shelter this year (2020). When women and families enter the facility, they are given 1 set of bedding to use while seeking protection. This bedding follows them from shelter to shelter and is greatly utilized. Thank you Human Option for the opportunity to learn more about your organization and the incredible necessity your facility is in our local community. We are so grateful for your wonderful organization.
---
My Subaru Retailer - Donald R
I just purchased my second Subaru (2020 XV Crosstrek) from Dan at Irvine Subaru. The entire process was seamless. The staff was very helpful, welcoming & accommodating. They did everything possible to make this new purchase easy. Although 40 miles away from where I live and work, my loyalty to the sales and service staff is very strong. My previous purchase was a 2014 Forester, also from Dan. I had the vehicle serviced at this dealership, and continue to have this location complete all necessary work. I will continue to rely on the service staff and department for all my needs with this new vehicle, and will also give this dealership location my highest recommendations to anyone looking for a vehicle or in need of vehicle maintenance.
---
Irvine Subaru Helped Our Cancer Patients! - Cecilia B
We were so pleased to be a part of the 2019 Share the Love Campaign. For this campaign, we received $37,274, with $10,025 of that total from Irvine Subaru to support Saddleback Medical Center's Cancer Care Navigator program. A cancer nurse navigator guides and supports newly diagnosed cancer patients and their families during the cancer journey. These individuals are trained to provide education, answer questions and coordinate care. They help schedule appointments and work with the treatment team. The navigator can also provide resources for social services and access to clinical trials. These services are provided free of charge to our cancer patients, and the hospital is not reimbursed, so charitable gifts like those from Subaru help fund the program expenses. We could not be more grateful. Our cancer patients can face this difficult journey a little easier because of Subaru! Sincerely, Cecilia Belew President, Saddleback Medical Center Foundation
---
Thank You Sebastian - Jason H
I was leading a training class when a call came in on my cell. It was my daughter who knew not to call me I was working unless if was very important. My heart sank when I heard her crying and telling me that she was in a car accident.... After the horror of that moment I found out she was not injured and everything was ok, except for her car. Her wheel was turned and she could not steer it very well. Now the problem was, I was 400 miles away and didn't know where she could go for help. I called a friend in CA and he told me to go to Irvine Subaru and ask for the Service Manager, Sebastian, the only problem was my daughter's car was a Ford Mustang, not a Subaru. He told me to call anyway so I did. Sebastian listened to my concerned story and assured me that he would do whatever he needed to do to take care of my daughter and her car. He told me not to worry and that he would call me when he knew what was wrong. When my daughter arrived he dropped everything to take care of her. Sebastian got her car into the shop, aligned it, made sure it was safe and sent her on her way in about an hour after she arrived. Because of Sebastian's concern and extraordinary customer service, my daughter was able to calm down and feel safe. She drove home and was very thankful and happy. Thank you Sebastian for going out of your way to help a total stranger in what was one of our most scary and stressful situations. We are very grateful for you taking care of our daughter and making her feel safe and special in your store. We would recommend everyone to go see Sebastian for any of their automotive service needs. Sebastian truly exemplifies what Subaru is calling the Love Promise!
---
Subaru is a wonderful support to animal rescues - Jane D
For the past 7 years, Old English Sheepdog Rescue has been fortunate to have our booth next to Subaru at the twice yearly Irvine Animal Care and Control adoption events. Subaru has been so supportive of the event which helps the many rescue groups who offer their animals for adoption at the events. They come by and visit all the rescues in attendance and their kind words mean so much to the groups. Their participation has been so meaningful to the many people who adopt a "new member of their family" at the events. In addition to emotional support, Subaru brings toys and other items for the adoptive dogs and others in attendance. We so appreciate Subaru helping us over the years with items to raffle at other events and also with our goodie bags at our parades. We look forward to seeing them every June and December!
---
Blankets For Patients - Samantha V
On Wednesday July 19th, The Leukemia & Lymphoma Society Orange County Inland Empire Chapter and Irvine Subaru had the pleasure of delivering 80 blankets and 10 arts & craft kits to Kaiser of Irvine Hematology/Oncology Department as part of the Subaru Loves To Care program. These comforting gifts were accompanied by personalized messages of hope written on a notecard by customers and staff of Irvine Subaru. This incredible act of generosity was warmly received by Kaiser of Irvine staff who were thrilled as these blankets were going to be distributed to their patients to keep warm during their treatment. Social worker Terri expressed how grateful patients are to receive a cozy blanket that are always needed. LLS is proud to partner with Subaru to spread hope, love and warmth to those fighting cancer.
---
Boys & Girls Club Lake Forest Program - Pamela E
Lalea is a Boys & Girls Club member in our Lake Forest program. Lalea was our Education Member of the Month for April! At the beginning of the year, she would be reluctant to come in to do homework, especially because some of her homework is in Spanish since she attends a Spanish immersion school. Fortunately, several of our staff are fluent in Spanish and were able to provide the assistance she needed. With this nurturing and confidence building, her self-esteem has grown. Now she independently comes into the Ed/Tech all the time and completes her homework almost completely on her own. Lalea's spark truly shines when she's involved in Garden Club and pretty much any S.T.E.M. project. Thanks to Irvine Subaru, Lalea is blossoming and will carry the confidence she's developed at the Boys & Girls Club into her future! Lalea is one of 114 young people from Lake Forest that have attended this Boys & Girls Club program. Overall, they have participated in 302 program sessions and have attended the Boys & Girls Club 3101 times, thanks to Irvine Subaru. The programs they participated in included: Power hour (homework help), Junior Staff, SMART Girls,Torch Club (Leadership Skills), Date Smart, Sport & Fitness, Food Science Cooking, Digital Arts, Adventure Club, My.Future (technology and coding) and Sculpture. Thanks also to Irvine Subaru Share the Love, we will be able to make sure that 50 deserving kids will be able to spend 5 days a week at our Summer Camp in Laguna Beach this year! That is critically important to help prevent summer learning loss that especially affects young ones whose families struggle to get by. That is meaningful impact!
---
Irvine Subaru Loves to Care at Kaiser Permanente - Carissa S
We want to acknowledge and thank Irvine Subaru for the generous donation of 80 blankets and 50 art kits to our patients in the Hematology/ Oncology department on September 6th, 2018. The patients in our Infusion Center were very appreciative of the warm, cozy, blankets through your Subaru Loves to Care Program. We are also including your blanket when a patient new to chemotherapy comes to orientation. The response has been very positive and uplifting. Thank you for the difference you are making in the lives of our patients. Sincerely, The Hematology/ Oncology Department at Kaiser Permanente Irvine
---
Leukemia & Lymphoma Society partner up with Subaru - Samantha V
The Leukemia & Lymphoma Society (LLS) Orange County Inland Empire Chapter partnered up with Irvine Subaru to deliver 80 blankets and 50 craft kits to cancer patients at the Kaiser of Irvine Hematology/Oncology department on Thursday, September 6th, 2018. Carissa, Oswaldo, and Sebastian from Subaru met with LLS staff member Samantha to deliver the items. At the hospital, the items were delivered to Terri, a social worker of the department and Carole who is the assistant department administrator. The blankets were going to be distributed to all of the adult patients in the department and the craft kits were going to be given to pediatric patients. Terri and Carole both expressed gratitude for being a part of the Loves To Care program. We all look forward to working together next year.
---
Subaru Loves to Care - Yvette S
On July 12, 2017 Irvine Kaiser Hospital and their department of Adult Hematology/Oncology Infusion Center hosted the Leukemia & Lymphoma Society & Irvine Subaru for the delivery of blankets and craft kits. Two volunteers from Irvine Subaru, California attended the event along with one LLS staff. For the purpose of delivering the blankets to cancer patients as well as bringing a smile to their face. We were able to hand deliver the blankets and craft kits to about 10 patients undergoing their chemotherapy treatment on site. All of the cancer patients were super thrilled to have us there and were truly thankful for Irvine Subaru for doing such a great gesture. The patients interacted with the Subaru staff and even one of the families there said: "My son just purchased a Subaru at your Irvine location and were super happy with the customer service that they received, now my other son wants to go back and purchase one as they are really great cars." The two Irvine Subaru staff members also shared that cancer just reached their home and that they were very excited to be able to do this small gesture as they feel that they need to give back to the community. The presence of LLS and Irvine Subaru helped provide a resource and a gentle reminder that survivors and family members have a social support network that they can connect with beyond their immediate family during their cancer journey.
---
Subaru and NWF Loves the Earth - Linda P
Green Team Club planting a water tolerant garden. Thank you Subaru!
---
2017 Annual "Share the Love" Hometown Charity - Sergio S
Coinciding with tradition, this year Irvine Subaru participated in the annual "Share the Love" Event. For each Subaru sold or leased through January 3rd, 2017 a $250 donation was made to a select charity. Thanks to eager participants, on April 26th the Boys & Girls Club of Lake Forest, Irvine's Subaru's hometown charity was presented a check for $4,343. The Boys & Girls Club guarantees that 100 percent of funds raised from annual service projects go toward scholarships, support of youth programs and the local community. In Lake Forest, Irvine Subaru is committed to building a clubhouse center with the event donations. This center will foster a sense of community for the kids and teens in Lake Forest that have nowhere to go after school. Irvine Subaru will continue efforts by organizing special events to help The Boys & Girls Club of Lake Forest throughout the year.
---
We love pets & the Home for the Holidays Fair! - Sergio S
The 10th annual Home for the Holidays Pet Adoption Fair was yet again another huge success! It gives all of us at Irvine Subaru great joy to be in partnership with the Irvine Animal Care Center and is an honor for us to participate in each adoption event. This year's Home for the Holidays Pet Adoption Fair had over 4,000 people in attendance with over 40 animal rescue groups and shelters that participated. Most importantly we were glad to hear that 273 animals found a forever home and were adopted! Words can't describe how special we feel to help give an animal a chance for a new life and home. Our Irvine Subaru family can't wait for the next "Super Pet Adoption" event, which is on Sunday June 4, 2017. We look forward to continuing our partnership with the wonderful people at the Irvine Animal Care Center and want to give them a big thank you for letting us be a part of such a great cause.
---
Irvine Subaru & the Home for the Holidays Pet Fair - Sergio S
Irvine Subaru is proudly sponsoring the 10th Annual Home for the Holidays Pet Adoption Fair, in partnership with the Irvine Animal Care Center. This adoption event allows families to take home a new friend and also brings awareness to the community about the importance of adopting pets and the community's local animal adoption center. Irvine Subaru partners with Irvine Animal Care Center every year to find homes for pets in need and bring families together. Along with over 600 adoptable pets, come enjoy pet vendors, a silent auction, free veterinarian advice, and gourmet food trucks. Mark your calendars for Sunday, December 4th, 2016 from 10:00 am to 3:00 pm at the Irvine Animal Care Center, 6443 Oak Canyon Road. Bring your whole family, tell your friends, and bring a furry friend home for the holidays! Come be a part of this incredible event and don't forget to visit the Irvine Subaru booth and say hi, where we'll also be giving away FREE "Subie" stuffed animals when adopting a pet. We are looking forward to seeing you there!
---
Irvine Subaru & the Super Pet Adoption Event - Sergio S
On June 5th, Irvine Subaru was a proud sponsor and attendee of the 10th Annual Super Pet Adoption Event with our partner, the Irvine Animal Care Center. This event was a huge success, one of their best adoption events ever! We immensely appreciate all who have been supporting and participating in this special cause! These animals now have a new chance at life and love in their new forever home. Over 5,700 pet lovers attended the event and 399 animals were adopted on the spot and many more following the event. More than 40 rescue groups and shelters participated. It is a pleasure being an ongoing sponsor and participating in this very special event as we look forward to a future where all homeless pets find a loving forever home. As one of the supporters we will share success stories and information from the Irvine Animal Care Center on a regular basis. Save the date for our next adoption event "Home for the Holidays" on Sunday December 4, 2016.
---
Irvine Subaru & the Butterfly Heroes Program - Sergio S
Over the winter months, monarch butterflies in Mexico begin to make the journey north to the United States in early spring. Soon after they leave Mexico, pairs of monarch's mate. As they reach the southern United States, females will look for available milkweed plants to lay eggs. Monarchs are truly spectacular migrants, because the butterflies know the correct direction to migrate even though they have never made the journey before. They follow an internal "compass" that points them in the right direction each spring and fall. The monarch migration is one of the greatest natural phenomena in the insect world. Here's where Irvine Subaru is here to help. We have partnered with the National Wildlife to help these majestic creatures combat rapidly declining populations in recent years. In the month of April as part of the Subaru Loves the Earth initiative, Irvine Subaru installed a butterfly habitat planter on-site. The planter is full of milkweed to help these beautiful monarchs lay their eggs. We also handed out milkweed packets and information to customer to create their own butterfly garden at home!
---
Irvine Subaru helped The Whosoevers movement! - Sonia G
The Whosoevers is a non-profit organization based in Southern California and founded in 2009. Rooted in music & art our products and events empower one to help another. We speak publicly in settings such as schools, concerts, and rehabilitation centers around the world. The donation received from Irvine Subaru helped us to get closer towards purchasing tour equipment for our "Kill The Noise" high school tour series offered to all schools across Southern California. Events feature performance from a notable band, autograph signing by professional athlete, and purpose driven message from Ryan Ries, co-founder of The Whosoevers.
---
Love Promise October Pets - Irvine Animal Shelter - Sergio S
Irvine Subaru proudly hosts the annual Irvine Subaru Adoption Event with our partner, the Irvine Animal Care Center. This is a fun event that brings awareness in the community to the importance of pet adoptions and our local pet adoption center. We are honored to show support for the devoted staff at the Irvine Animal Care Center, and their mission to find homes for homeless pets. We are participating whole-heartedly in their Home for the Holidays event, taking place Sunday, December 6th 2015 from 10:00am-3:00pm, located at Irvine Animal Care Center, 6443 Oak Canyon, Irvine, CA, 92618. We encourage you to attend and tell as many of your friends and family as possible to make this the best pet adoption event ever. Please visit our booth at the event to meet our caring team who will be giving away stuffed animal Subi dogs to those who adopt pets.
---
Love Promise August Education - Trabuco Hills High - Lindsay C
Irvine Subaru Proudly Supports Local Educators! On August 22, 2015, Irvine Subaru adopted the class of Lindsey Casserly, an avid Subaru enthusiast. Her AP History students have a demanding academic course load, but are also required to fulfill even more components outside of the classroom. Lindsey's passion for her community, her students, and adventure shines through her teaching style, and she puts these into practice by having her students participate in community events and service. Lindsey is dedicated to helping her students through their research process and through their service to our community in any way she can. Irvine Subaru was moved by Lindsey's passion and wanted to support her staunch devotion to teaching students how to not only be great at school, but to give back to their community. To support these lifelong lessons that Lindsey is instilling in her students, Irvine Subaru has given her and her students a donation in order to purchase laptops and a printer for her classroom. These necessary technologies will help Lindsey and her students create their research and service projects to help society grow in a positive direction. Irvine Subaru is dedicated to serving our community and furthering the education of our future leaders. Lindsey was so appreciative of our donation and wanted to let us know that she and her husband love their Subaru's!
---
Love Promise June Meals on Wheels - Age Well - Sergio S
As part of the Subaru Love Promise, we pledged to do right by our communities in which we live and work. From our store during June we had a collection container for donations of nonperishable food items, toiletries, toilet paper, paper towels and tax deductible donations to Age Well Senior Services, the Meals on Wheels organization for our area. Age Well is a non-profit organization that provides hope and independence for an expanding population of seniors, enhancing their quality of life. Age Well never turns any seniors away and relies on donations to provide their services. Irvine Subaru has committed to help support Age Well services, including Meals on Wheels and Congregate Meal Programs, Adult Day Health Care, Alzheimer's Social Day Care, transportation, and various other health and wellness programs/events through event sponsorship. We appreciate the kindness of those who administer, participate and volunteer in helping this great organization.
---
Love Promise April E-Waste Recycling - All Green Electronic Recycling A
Irvine Subaru welcomed Subaru's Love Promise campaign by hosting the Love the Earth E-Waste program. This Love the Earth event took place over the month of April, in which we had an electronic waste recycling center in our store. Over the month our staff embraced this event with open arms and took advantage of the opportunity to help put an effort in saving the environment. The Love the Earth E-Waste program really brought awareness and an importance of electronic recycling to many of our new and current customers. In this day and age, we believe that keeping the earth as waste free as possible can and will impact our environment for the good of our future world. Irvine Subaru is truly grateful to have had the opportunity to be an advocate of the Love the Earth E-Waste program for Subaru and the community.
---
Irvine Subaru Helps Save Animals in Need with the Irvine Shelter - Rob W
The Irvine Shelter is a non-profit animal shelter that has two yearly pet adoption events: one during the summer and one in December called Home for the Holidays. The event helps unite abandoned dogs,cats and rabbits with loving members of the community that will care and cherish them. Irvine Subaru has been a proud sponsor of the event for many years, but no matter how many times you see an adoption each one is very special and heartwarming.
---
Irvine Subaru Proudly Support Kiwanis Club - Dave C
Kiwanis Club is the nonprofit that is trying to establish a permanent facility for a chapter of the Boys and Girls Club in Lake Forest, CA. Irvine Subaru, located in the city of Lake Forest, is trying to support the cause by having The Kiwanis Club as one of our 2014 Share the love Charities and support them in their local events to raise monies for the permanent facility. Irvine Subaru believes that the youth of our communities will shape the character of the future. Kids that are stimulated by activities that strengthen their characters and widen their interest in positive directions will make for a better & kinder society. Here are some pictures of the Tour de El Toro, bike, jog and run races for the whole family, put on by the Kiwanis Club to raise funds for the Girls & Boys Club of Lake Forest. The kids are proudly displaying their medals for completing their races.
---