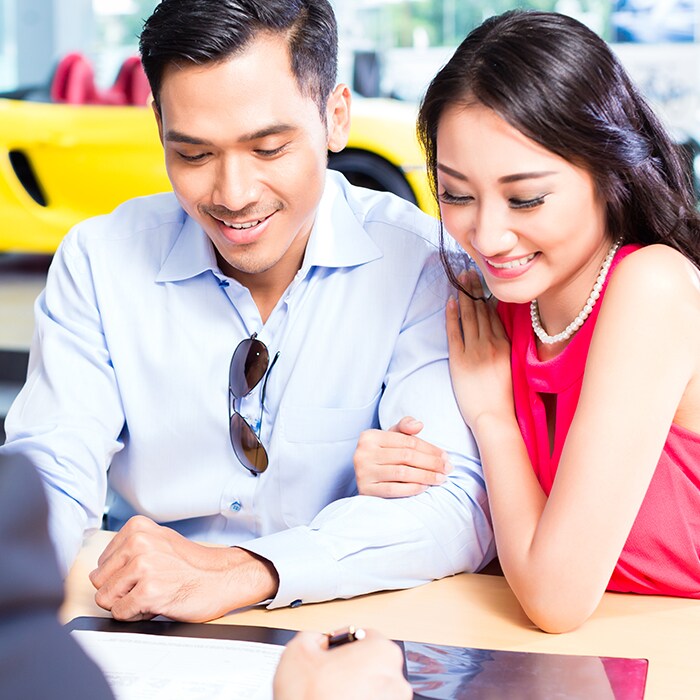 Hours
Monday

9:00 am - 8:00 pm

Tuesday

9:00 am - 8:00 pm

Wednesday

9:00 am - 8:00 pm

Thursday

9:00 am - 8:00 pm

Friday

9:00 am - 8:00 pm

Saturday

9:00 am - 8:00 pm

Sunday

10:00 am - 7:00 pm
To Lease or To Buy? That is the Question that We're Here to Answer in Lake Forest!
Whether this is your first time purchasing a car or you're looking to trade in your existing model, you might be wondering to yourself which is a better payment option: financing or leasing? Well, we here at Irvine Subaru, our model is "We're here to help" and that includes providing you with all the necessary information you need to make an informed decision on which option is best for you. That way, you can have all the necessary information at your fingertips before you even step foot in our dealership.
A Lease for Those Who Like Variety!
Many people prefer leasing as an alternative payment plan due to its lower long-term costs and non-committal nature. The way a typical lease works is, much like a car loan, you pay a down payment at signing the lease agreement and then a system of monthly payments after the fact; the higher your down payment, the lower your monthly payments will be. However, what separates this from an auto loan is that the ultimate endgame of a lease agreement is not ownership, but the ability to drive the latest models. When you sign a lease, you choose the car you want to drive and enjoy it for the duration of your lease term. When the term is complete, you can turn in the car at the dealership and drive off in another brand-new model of your choosing, thus, you'll always have access to the latest cars with the latest technology. This also means that your overall leasing cost will be much lower as you are only paying for a percentage of the vehicle's overall value, plus the vehicle remains covered under its warranties, so your only other auto expenses, aside from monthly payments, could potentially be just gas and insurance.
A Lease Isn't for Everyone
However, like any contract or agreement, leasing is not without its drawbacks. If you are thinking of leasing an all-new Subaru from Irvine Subaru, it is important that you consider factors such as these:
Lease agreements tend to restrict the places your mileage. Driving from Irvine might be more practical, but taking family road trips might be impractical as lease agreements typically allow for 9,000-15,000 miles of travel with extra charges being added for going outside these parameters.
While some wear-and-tear to the vehicle is expected, any excessive damage or deformities tend to be met with financial penalties. However, the conditions of lease agreements vary from case to case.
Some of you might have to use your vehicle for a ride-sharing program, such as Uber or Lyft, which typically isn't allowed for a leased vehicle because of the excess mileage these programs require of their drivers. If you are leasing a new Subaru, make sure that your lease agreement allows for the vehicle's usage as an Uber or Lyft.
Finally, in order to qualify for an auto lease agreement, your credit must be exemplary. While, some dealerships offer low-credit leases, you might have better luck qualifying for an auto loan if you have lower or nonexistent credit.
A Loan for People Looking to Commit
If you do have your heart set on one particular vehicle, and you want to make it your own, then your best bet might be an auto loan. Just like an auto lease, there are a variety of factors taken into account when it comes to your loan parameters, such as your credit history, trade-in value, down payment and interest rates. Once again, the lower your down payment is, the less you will have to pay in monthly fees. While the bank or loaning department financing the vehicle might own it during your loan terms, once the loan is paid off, the vehicle is yours to own for life! There are no mileage restrictions, no excess wear and tear fees and your credit doesn't necessarily have to be excellent to qualify for a loan, although it will be more advantageous for you to be in good financial standing with other banks and lenders.
Lots to Consider in a Loan
However, there are a few caveats that come with an auto loan as well which you should be mindful of when purchasing a new or pre-owned Subaru model. Such downsides include:
In the short term, an auto loan is the more expensive option because you're paying for the entire value of the car, not just a percentage like in a lease agreement. Typically, unless you're willing to pay more money down at signing or the car you're trading in has more value, your monthly payments might be higher than they would be in a lease agreement.
The 7.25% California sales tax is included in an auto loan as it is a purchase to own whereas it is not included in a lease agreement.
The car might be worth less than you owe on your loan when it comes time to trade the car in. Lenders refer to this as being "upside down" on the loan and you are still required to pay off the remainder of the loan even after you turn it in. These types of issues tend to pop up on a pre-owned car loan, however, new Subaru models are built to last so you'll most likely be able to enjoy your Subaru vehicle long after your loan has been paid off.
Credit is still a factor and you may be required to contribute a 10-20 percent down payment or more when you sign if you're credit rating is lower or you have no credit at all.
Find the Financing Plan that Fits You
Whether its financing or leasing, there's a lot to consider. Thankfully, the financial experts here at Irvine Subaru are here to help. Before you come test drive a new or pre-owned Subaru model, be sure to fill out our financial application to find out how you may pre-qualify for an auto loan or lease agreement. Check out our specials for new and pre-owned models to see if an offer awaits you on a new or pre-owned Subaru model. You won't know until you check it out! Then, come test drive any of our new or pre-owned Subaru models here at Irvine Subaru. We're located at 23663 Rockfield Boulevard in Lake Forest, CA and we're proudly serving the Laguna Niguel area as well. See you soon!