The 2018 Subaru Impreza Is An Impressive Vehicle In Every Respect for Orange County Drivers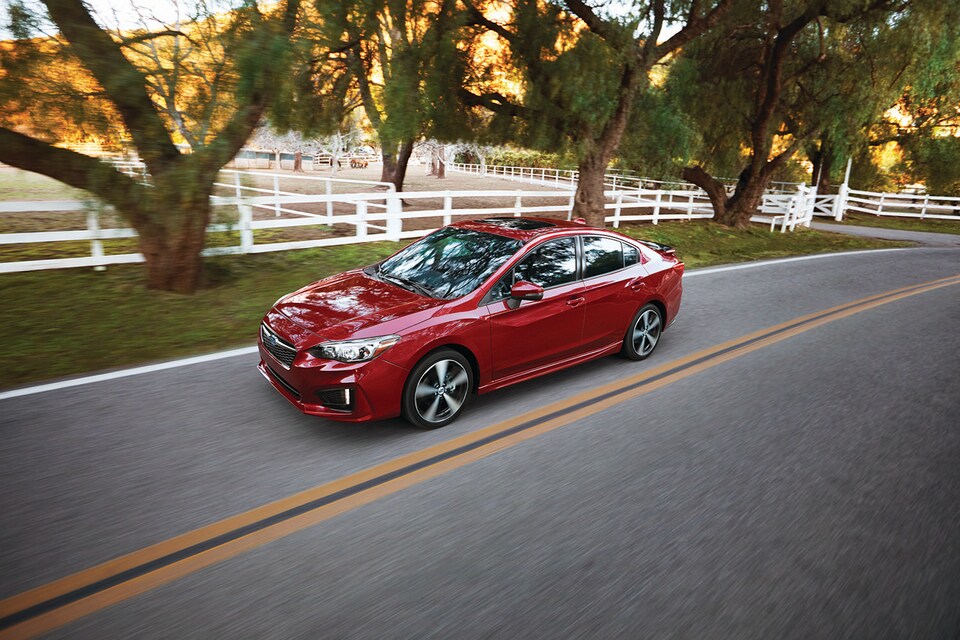 If you are in the market for a new vehicle, then you may already have a general idea as to what kind of vehicle you are interested in. Our team knows how important finding the right vehicle is, especially in the context of your budget, and your lifestyle. That is why we are here to help you hone in on a specific automotive option that complements your needs on the road, and changes the way you view the open road.
With a vehicle like the 2018 Subaru Impreza, you can get something extremely important: versatility. Offering you respectable levels of power, reliable efficiency, and cutting-edge features, this vehicle truly has it all. How many other vehicles offer the kind of versatility the 2018 Subaru Impreza offers?
Modern Exterior Design Combined With a Comfortable Interior Layout
The first thing you will notice about the 2018 Subaru Impreza is its incredible design. It immediately exudes confidence and power, thanks to its curving body, its sharp features, and its bold front end. This vehicle may be compact in nature, but its exterior design makes it seem big, powerful, and rugged. Furthermore, with its aerodynamic shape, you will be able to easily slice through the wind. 
Browse all the new Subaru Impreza sedan and hatchbacks in our Orange County dealership serving Irvine and Ahaheim here!
The interior layout of this vehicle is just as impressive, and it manages to combine luxurious comfort with practicality. For instance, the seats in the Subaru Impreza are designed to ensure your comfort on the road, whether you're taking a short jaunt to the store, or a long road trip across the country. You, and your passengers, will have plenty of leg room, so you don't feel cramped on those longer journeys. And, since the 2018 Subaru Impreza can come in either a hatchback or sedan body style, you can get varying degrees of cargo spaciousness, allowing you to bring the items you need with you.
On top of all of this, all of your features are easily accessible from the driver's seat. This allows you to more efficiently utilize something while on the road.
Performance Abilities to Adore; Safety Features You Can Rely On
We weren't kidding when we said that the 2018 Subaru Impreza has it all. When it comes to performance, the 2018 Subaru Impreza offers you the tools you need to stay in control, and confident, on any road.
This includes an incredible 38 highway mpg -- allowing you to travel further on what you have in your tank, saving you money at the pump -- and a 152 horsepower direct-injection Subaru Boxer engine. The Impreza also comes with standard symmetrical all-wheel drive, offering you greater control on the road.
The 2018 Subaru Impreza also has a host of cutting-edge safety features. Not only is its high-strength steel frame designed to keep you safe, it also has features like blind spot detection, LED steering responsive headlights, a rear-vison camera, and reverse automatic braking. This design, and these features, are part of the reason the 2018 Subaru Impreza was named a 2017 IIHS Top Safety Pick+. 
Find new Subaru lease offers and specials at Irvine Subaru in Orange County, CA here!
Best of all, though, you can get all of these benefits for an affordable starting MSRP. How affordable? Under $20,000 affordable. Now, again, we ask you -- does any other vehicle offer this much for such an affordable price? If the answer is no, then we think you may be interested in checking out the 2018 Subaru Impreza.
The Sedan body style and five-door body style come in four different trim levels:
Subaru Impreza 2.0i
Subaru Impreza 2.0i Premium
Subaru Impreza 2.0i Sport
Subaru Impreza 2.0i Limited
Visit Us Today to Learn More!
Experiencing a vehicle firsthand is the best way to understand its capabilities, and to see if it is right for you. We invite you to stop by Irvine Subaru, located in Lake Forest, CA; our team will happily walk you through our extensive selection of vehicles, and help you pick out the one that is just right for you!
Your privacy is important to us.
Irvine Subaru takes your privacy seriously and does not rent or sell your personal information to third parties without your consent. Read our privacy policy.